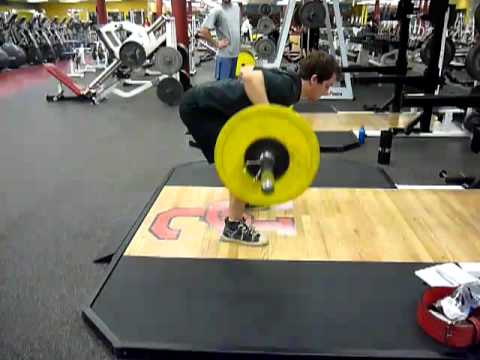 True, Barbell Rows Are Harder Than Pulldowns and Dumbbell Rows!
Why can barbell row benefits trump dumbbell rows? Today, in fact,  I did barbell rows with 95 pounds. Even though when I was doing dumb bell rows with heavier weights, almost 60 pounds for each dumb bell, there is no question that the barbell row is more difficult.
With a dumbbell row, you can stabilize yourself on a bench, which makes the whole movement feel a lot easier than using the bar where you have no stabilization, besides your own back muscles, hips, legs, abs.
So, yes, I have done pulldowns many times over the years, with no visible benefit, as well as the dumb bell rows, which I think had a bit of visible benefit, but I can tell now that the barbell row is the way to go for overall impact.
Why do Barbell Rows
It is harder and deserves respect, which means a proper warm up and stretching, as well as going up in weight slowly. No ego, fewer injuries, especially for regular folks like us just trying to get into great shape.
I have culled some of the major barbell row benefits from several sources which are credited at the end of the post with their links, so you can find their full articles there.
But for our purposes, I want to motivate you to include it into your workout as part of the big 5 that are recommended by Mehdi of http://stronglifts.com, which has been my guide for the last 6 months in strength training.
I think it is important to glean the most important information for yourself, but then you have to test it out with your own body, so you cannot totally rely on anyone else's suggestions, but try out the stances, warmups, sets and repetitions and see how you feel.
No matter what, have no ego, increase your weight gradually so you can avoid injury and keep getting stronger, that is key. Bottom line, these excellent barbell row benefits can help you to really build a much stronger back and improve your posture.
Barbell Row Benefits

Apr 20, 2011, | By Emma Roberts

Barbell rows are one of the most effective exercises for the large muscles of the back including the latissimus dorsi and the trapezius. Barbell rows also have the added benefit of improving posture, as they employ the postural muscles the posterior deltoids and the rhomboids. Jessica Matthews, M.S., adds that because barbell rows are free weight exercises, they utilize more stabilizer muscles, which provides the added benefits of burning more calories and building more muscle mass overall.

Totally accurate, even before pulling the weight, you can feel your body setting, engaging for the rows, you will feel your entire core flexing, which is much different than sitting on the bench doing lat pulldowns where the movement is very isolated to your lats, as well as is the case for dumbbell rows, where you are fairly relaxed using the bench to stabilize you, and the lats again are fairly isolated.

Latissimus Dorsi

The barbell row benefits your lats. The latissimus dorsi muscle is one of the primary muscles involved in the barbell row. This large muscle stretches all the way from the top of the arm to the pelvis and its chief function is to pull the arms back in the rowing action. The main barbell row benefits for the latissimus dorsi is postural; a strong latissimus dorsi helps to maintain an erect posture and helps to keep the shoulders from slouching forward.

Posterior Deltoids

Barbell rows also involve the posterior deltoids — the muscles at the back of the shoulder. Although much smaller than the latissimus dorsi, these muscles are also deeply involved in posture, and the barbell rows help these muscles to maintain the position of the shoulders. Paul Sorace, M.S., explains that free weight exercises like barbell rows provide additional benefits to the posterior deltoids in the area of balance, stabilization, muscle coordination, and muscle control.

Rhomboids

Located between the shoulder blades, the rhomboids are one of the most important postural muscles. Weak rhomboids create the slumped forward, round shouldered appearance indicative of poor posture. The squeezing action of the shoulder blades that occurs at the top of the upward phase of the barbell row exercise especially helps to develop these important muscles and maintain proper posture.
Warning
The barbell row is an advanced exercise that requires correct technique in order to avoid injury. One of the most common errors in performing this exercise is to stick the buttocks out while doing the lift; however this action places excessive strain on the lower back. It is vital to engage the abdominal muscles as you pull the barbell in the rowing action to maintain a neutral spine position for the duration of the exercise.
Read more at the source:
http://www.livestrong.com/article/424316-what-are-the-benefits-of-barbell-rows/#ixzz2PLG0ChiW
What barbell row benefits have you experienced? Please share.
Here is a video from StrongLifts which shows how to do the barbell row, sometimes also called the Pendalay Row.
Remember to keep your core tight, flat back, parallel to the floor. Watch:

http://www.youtube.com/watch?v=gQBSRBgRLVI
How To Get Fit Fast - Fat Loss and Strength Gain Chart
Date
Body Weight
Body Fat Percentage
Pushups or Pullups
Squats (below Parallel)
Deadlift
Monday December 23, 2013, Day 8
195lbs
22.7%
5 sets of 17 + 8 + 7 = 100 in under 10 minutes
5 sets of 75lbs, warm up with 45lbs, rest between 2 and 5 minutes between sets
Sunday December 22, Day 7
196lb
22.9%
5 sets of 16
none
none
Saturday, December 21, Day 6
197.5lbs
23%
5 sets of 16
none
none
Friday December 20, Day 5
199lb
23.3%
5 sets of 14
70lb
none
Thursday December 19, Day 4
200lb
23.5%
5 sets of 13
65lbs
none
Wednesday December 18, Day 3
202lb
23.8%
5 sets of 12
60lbs
none
Tuesday December 17, Day 2
204.5
23.9%
5 sets of 11
55lbs
none
Monday December 16, 2013 Day 1
205lb
24%
5 sets of 10
45lb bar
none
October 31, 2013 Day 5 of the 30 Day Adventure
Pullups - today shoot for using 85lbs on the stack assist.

Did 4 sets with 85lbs, will shoot for 5 sets on sunday or monday..
Rest
Shoot for 5 sets of 120lbs, going up 5 lbs from Wednesday

did 4 sets of 120lbs...will shoot for 5 sets again on monday..or next time ...it was tiring...grr
October 30, 2013, Day 4 of Hashi Mashi 2
Today did maximum number of pushups possible. I have not tried that for many months and glad that I have gotten back to it. I did 40 which is not awful in the scheme of things, so that actually motivated me. I also did sets of pushups in between squats, 21 pushups between each set of squats.
5 sets of 5 reps using 70lbs
Rest
October 29, third day of this 30 day Hashi Mashi Adventure, results so far have been promising, 5lbs down and 1% bodyfat down. Keep going
Today did pullups using 90lbs on the stack and will shoot for going down to 85lbs
Rest
5 sets of 115lbs, did one set of 135lbs, so not too far back but have to make progress slowly
October 28, 2013 Wow it has been way too long since I was keeping track, but better late than never!
5 sets of 20 pushups, will take some time till I can build back up to the max pushups that I was doing which was 56 back in April
5 sets of 5 only using 55lbs, it will take time to build up again to 130lbs...it is a good thing I still had this table so I can see how fast I have lost strength over the last 6 months.
Rest
April 3, 2013 Day 286
Shoot for sets today, not max..
warm up with 45lbs2x5, 65lbx1, 95lbsx2, then 115lbs x1 then 120lbs 5setsx5reps - did them..should stay at 120 till it feels easy enough to move up to 125
shoot for 150lbs...good form.....decided to stay at 135lbs...1set of 5 reps...that was enough for today, did not want to push it! max 155 or 160..see how we feel..
April 2, 2013 Day 285
Rest Pushups - Take a Break!
Rest
Rest
April 1, 2013 Day 284
56 full pushups - the last 10 were purty difficult...
warm up with 45lbs2x5, 65lbx1, 95lbsx2, then 115lbs x1 then 120lbs 5setsx5reps - did them..should stay at 120 till it feels easy enough to move up to 125
Rest
March 29, 2013 Day 281
Will shoot for 52/53
Have to see if I can do any! And I did..whew...warm up with 45lbs2x5, 65lbx1, 95lbsx2, then 115lbs 5setsx5reps...did not feel too bad...happy I could do them..kept strict form...now rest for 2 days..
shoot for 150lbs...good form.....decided to stay at 135lbs...1set of 5 reps...that was enough for today, did not want to push it!
March 27, 2013 Day 279
52 - went up 1
135lbs 4 sets of 5, felt pull in right thigh...so stopped at 4 sets, will go down in weight
Rest
March 25, 2013 Mon Day 277
51 - went up 1, the last 5 were pretty difficult, consecutive full pushups
135lbs 5 sets of 5 reps, these were so @#$ hard, went up 5lbs but think I might have to stay here for a week or so till I am moving the weight easier
165lbs is the goal for today, did warmups of 95, 135 and 155 and then 1 set of 5 reps of 165lbs. I think the form can be better, so stay at this weight in the meantime.
March 23, 2013 Sat Day 275
50 - Yeeha! Did many shoulder dislocations for warmup
130lbs is my new High, 5 sets of 5 repetitions, up 5lbs from last workout.
Rest Deadlift
March 22, 2013 Fri Day 274
Rest - Wedding Celebration
March 21, 2013 Thur Day 273
Rest
March 20, 2013 Wed Day 272
Rest
125lbs 5 sets of 5 reps, went up
155lbs 1 set of 5 reps, up 5lbs using mixed grip, left overhand, right underhand
March 19, 2013 Tue Day 271
45 pushups first set max
Rest
Rest
March 18, 2013
Chest so sore, could not even do 1!
120lbs 5 sets of 5 reps, went up
Off Today
March 15, 2013
41 repetitions nose to floor, yea, i have a long nose
115lbs 5 sets of 5 reps, went up 5lbs from the previous workout
150lbs 1set of 5 reps, up 10lbs
March 13, 2013
40rep max
110lbs 5 sets of 5 reps
140lbs 1 x 5
June 21, 2012
1
2 repetitions using 45lb bar
2 reps 45lb bar
Our Focus is on Fat Loss and Strength Gain. Fat Loss is accomplished by eating real foods and avoiding processed foods. Real Strength means doing a workout , doing exercises such as core, compound exercises like pushups, squats, deadlifts, bench press, overhead press and barbell rows using free weights or your bodyweight.