Who is Rob Mcelhenney?
Rob Mcelhenney is an Irish American creative phenomenon, as he is a screenwriter, producer, director, and actor on FX's hit comedy "It's Always Sunny in Philadelphia."
McElhenney was born in Philadelphia, Pennsylvania, on April 14, 1977.
He started his acting career in 1997 with a role in The Devil's Own. In 2005, FX picked up his proposal for "Always Sunny in Philadelphia." By the seventh season, Rob pursued the idea of his character Mac, transforming into Fat Mac. And, he put on an additional 50 to 60 pounds to change from a normal-sized Mac into a pregnant Mac.
McElhenney's intentional weight gain, and what he did to transform from fat Mac to ripped Mac is the perfect model for why you got fat, and how to get fit, fast.
How you got fat
When McElhenney decided to put on 50 pounds in 5 months, he initially started eating healthy foods, like brown rice and chicken breast. Soon enough, he realized that he could not eat enough of that type of food to put on significant weight.
Brown rice and chicken breast are typical bodybuilding foods for a reason. They are clean and filling. He discovered that if he replaced his chicken and rice with Big Mac's, Krispy Kreme's, and ice cream, his problem is solved. A Big Mac is so processed that putting more than 1000 calories in his body at one meal was very simple.
Before long, he topped his goal to add 52 pounds to his frame in grand fashion. He started at 160 pounds and ballooned up to 220 pounds in 3 months. Most Americans take 30 years to gain fifty pounds; he did it in three months.
Sunny Behind the Scenes: Rob's Diet
If you are obese today, you likely did it the same way that Rob McElhenney did. Eat processed food and too much of it. Getting fat is easy to do. But how he reversed course is instructive as well.
Rob Mchelleny as Fat Mac -- from 160 pounds to 220 pounds in 3 months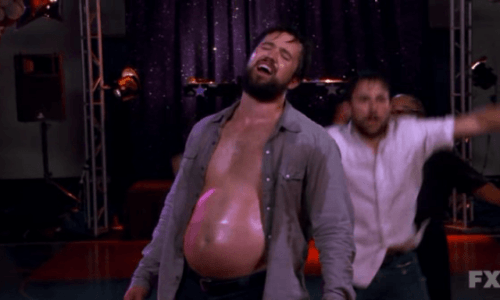 Rob McElhenney's Body Transformation
McElhenney went from a 220-pound butterball fat Mac to a ripped Mac:
It's Always Sunny In Philadelphia | Season 13 Ep. 10: Mac's Dance Scene | FXX
Rob McElhenney's workout and diet tips
Use Rob McElhenney's workout to get ripped.
Here are Rob McElhenney's workout and diet tips in his own words on Rob Mcelhenney's Instagram:
#1. Lift weights six days a week, stop drinking alcohol
#2. Don't eat anything after 7 pm
#3. Don't eat any carbs or sugar at all, in fact, don't eat anything you love
#4. Get the personal trainer for Magic Mike, sleep nine hours a night, run three miles a day
#5. And have a studio pay for the whole thing over a six to seven-month span
#6. "I don't know why everyone is not doing this."
#7. "It's a super realistic lifestyle."
And an appropriate body image to compare oneself. If you cannot afford Arin Babian, all you need is:
plus Rob's diet and workout tips above.
Related posts:
Pin the image below to share 7 Rob McElhenney workout tips to get ripped in only 7 months: